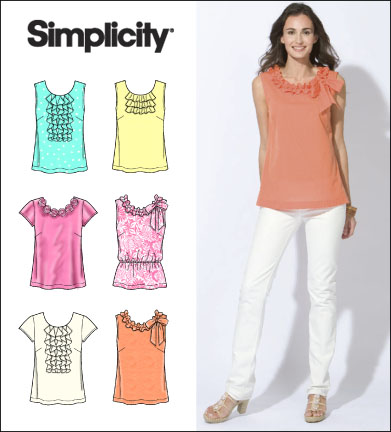 I got it in my head that I needed to try sewing a woven top. I'm almost 100% comfortable sewing knits, but fitted wovens are starting to freak me out a bit. The culprit:
The Crepe
. For anyone who wasn't a reader (and blissfully missed my
awful muslin pictures
), the Colette Crepe dress was the dress that just wasn't meant to be. Despite the fact that I sewed up no less than 4 bodice muslins, tried using 2 different fashion fabrics (FOUR YARDS EACH), this stupid dress just wouldn't let me win. My beautiful fashion fabric is all cut up, staring at me from a ziplock bag. Taunting me.
Anyway.
Simplicity 2599
was an obvious choice for 2 reasons: It was a "Best of 2010" pattern, it was pretty cute, and it wasn't super fitted, making fitting easy....or so I thought.
I started with muslining a size 8 & it was huge. Way huge. So, I basted the shoulder & side seams in about an inch & that was much better. I must have gone wrong somewhere when transferring the changes to my pattern, though, because it ended up teeny tiny. Sigh. Starting all over, I traced & sewed a size 6. Too big. Better, but too big. On to a size 4--the smallest size on the pattern. Again. Too big. I might have been able to live with the front if I used the elastic on view F (which was my plan anyway) but the back, oh my. The bag was just huge. I could pinch out a good 2 inches.
And that's when I gave up. I'm tempted to try the
Sencha
--but honestly. I don't think the high necking & the cut-on cap sleeves would be flattering on me. For now, I'm sticking to knits. But I am perusing Ottobre as my next option. Rumor has it that they are much more realistic in their fitting.
I'm not sure this could be officially considered a wadder, as it didn't even make it past the muslin stage, but it sure was a hit to my ego at first. Then I realized, in this particular scenario, there really wasn't anything I did wrong. I really could have made it work. But I made a choice. There were other things I would rather sew; things that in reality, have a more secure spot in my wardrobe.
Speaking of my wardrobe, I've realized that 99% of my tops are knits. I own 1...maybe 2 white button down shirts. That I've never worn. And have no plans to.
So, why the big push for a woven top? I just don't know. I do have a woven dress that I hope to muslin shortly, though.